Picashot is more than just a photography sharing platform for gamers. It's a community of like-minded individuals who have a passion for both video games and photography. Founded by Oluwafemi Obajuluwa, a young and proficient software developer, Picashot was created with the goal of giving gamers a place to showcase their virtual photography skills and connect with others who share their love for gaming.
At Picashot, we believe that gaming is not just a hobby, but a form of art that deserves to be recognized and celebrated. That's why we've made it our mission to provide a platform where gamers can share their gaming photos and express their creativity with others. Whether you're a seasoned gamer or just starting out, Picashot is the perfect place to connect and share with like-minded individuals.
Our mobile and web app makes it easy for gamers to upload and share their photos, as well as discover new and exciting virtual photography from around the world. We also offer a range of features that allow you to connect and engage with other members of the Picashot community, including commenting, liking, and sharing.
Join the Picashot community today and become a part of the most vibrant and inclusive gaming photography community on the web. Share your photos, connect with others, and let the world see your passion for gaming and photography!
Support Picashot!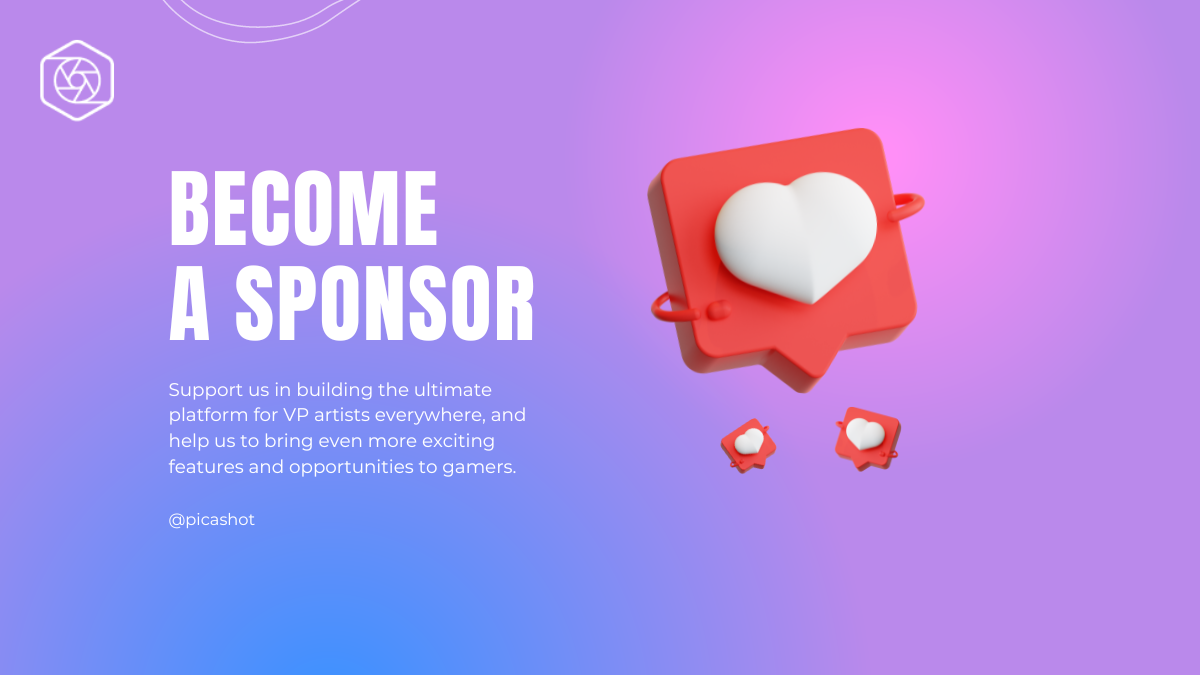 If you're loving Picashot and its creative vision, and would love to throw in a support, we'd love to invite you to join us in building the ultimate platform for VP artists everywhere. By becoming a sponsor of Picashot, you'll be directly supporting our vision and helping us to bring even more exciting features and opportunities to our users. And as a thank-you for your support, we'll show you off your status as a valued sponsor, as well as a feature on our official sponsor page.
While we don't offer any specific incentives for sponsorship at the moment, we're always open to exploring new ways to reward our sponsors and partners. So whether you're an individual, a business, or just someone who believes in what we're doing, we'd be honored to have your support. Just click the link to learn more and become a sponsor today. Together, we can make Picashot the go-to platform for Virtual Photography artists around the world.